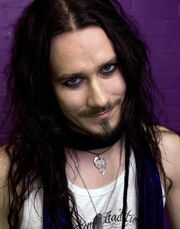 Tuomas Holopainen born in Kitee, Finland on 12/25/1976 is Nightwish's keyboardist, song writer, band leader, and very occasionally studio backing vocalist. He has been in numerous bands before nightwish that include: Dismal Silence, Nattvindens Gråt, Darkwoods My Betrothed, Sethian and For My Pain. He has studied jazz and classical music and has played the piano, tenor saxophone and clarinet in high school for 11 years. He uses Korg Oasys, Karma, N364, Trinity and Triton keyboard/workstations. One night in 1996 while sitting around a campfire, Tuomas decided he wanted to work on a music project that would blend traditional folk music with his keyboards, creating a unique sound. He got his old high school freinds Emppu Vuorinen and Tarja Turunen to join his cause. A few months later, in the winter of 1996, he wrote a demo. When he heard the demo, he realised that Tarja's voice was too powerful for acoustic folk music. That is what lead him to introducing electric guitars and drums into the band. In 1997 the first Nightwish album was released. It was entitled "Angels Fall First."
Ad blocker interference detected!
Wikia is a free-to-use site that makes money from advertising. We have a modified experience for viewers using ad blockers

Wikia is not accessible if you've made further modifications. Remove the custom ad blocker rule(s) and the page will load as expected.