Ad blocker interference detected!
Wikia is a free-to-use site that makes money from advertising. We have a modified experience for viewers using ad blockers

Wikia is not accessible if you've made further modifications. Remove the custom ad blocker rule(s) and the page will load as expected.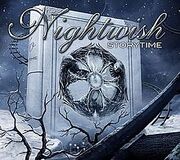 Storytime is the first single off of Nightwish's seventh studio album, Imaginaerum. It was released on November 9, 2011 after being premiered two days early on Finnish radio station Radio Rock.
`Twas the night before
When all through the world
No words, no dreams, then one day
A writer by a fire
Imagined all Gaia
Took a journey into a child-man`s heart
A painter on the shore
Imagined all the world
Within a snowflake on his palm
Unframed by poetry
A canvas of awe
Planet Earth falling back into the stars
I am the voice of Never-Never-Land
The innocence, the dreams of every man
I am the empty crib of Peter Pan
A silent kite against the blue, blue sky
Every chimney, every moonlit sight
I am the story that will read you real
Every memory that you hold dear
I am the journey
I am the destination
I am the home
The tale that reads you
{C A way to taste the night
The elusive high
Follow the madness
Alice, you know once did
Imaginarium
A dream emporium
Caress the tales
And they will dream you real
A storyteller`s game
Lips that intoxicate
The core of all life is a limitless chest of tales
I am the voice of Never-Never-Land
The innocence, the dreams of every man
I am the empty crib of Peter Pan
{C A silent kite against the blue, blue sky
Every chimney, every moonlit sight
I am the story that will read you real
Every memory that you hold dear
{C I am the voice of Never-Never-Land
The innocence, the dreams of every man
Searching heavens for another Earth
(repeat ch.)