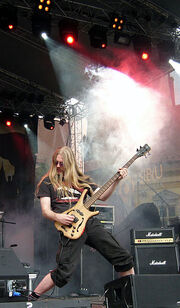 Marco Hietala (born January 14, 1966 in Tervo, Finland) is the bassist and male vocalist of Nightwish. He is also the bassist and vocalist of Tarot. He also plays for cover bands Northern Kings and  Sapattivuosi. He was brought into Nightwish to replace original bassist Sami Vänskä, who left the band after recording the Over the Hills and Far Away EP.
Ad blocker interference detected!
Wikia is a free-to-use site that makes money from advertising. We have a modified experience for viewers using ad blockers

Wikia is not accessible if you've made further modifications. Remove the custom ad blocker rule(s) and the page will load as expected.