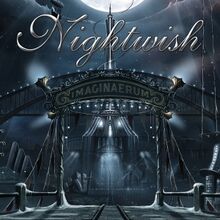 Imaginaerum is the seventh studio album by Nightwish, released on November 30th, 2011. It is the second and last Nightwish album to feature Anette Olzon as the lead vocalist. A film tie-in, also titled Imaginaerum, was released in Finland in 2012.
Track List
Edit
A second CD on Deluxe Editions of Imaginaerum

contain

instrumental versions of all 13 songs on the regular album.
B-Sides & Bonus Tracks
Edit
| Track Title | Notes |
| --- | --- |
| Storytime (Radio edit) | Available on the Storytime Mini-LP |
| Rest Calm (demo version) | Available on "Imaginaerum" mailorder edition |
| Storytime (demo version) | Vocals with Marco Hietala. Available on "Imaginaerum" Exclusive Digital EP and Roadrunner Edition |
| I Want My Tears Back (demo version) | Available on "Imaginaerum" Exclusive Digital EP and Roadrunner Edition |
| Slow, Love, Slow (demo version) | Available on "Imaginaerum" Exclusive Digital EP and Roadrunner Edition |
| The Crow, The Owl, and The Dove (demo version) | Available on "Imaginaerum" Exclusive Digital EP and Roadrunner Edition |
| The Crow, The Owl And The Dove (Radio edit) | Available on the The Crow, The Owl And The Dove Digipak |
| The Heart Asks Pleasure First (Theme from the movie 'The Piano') | Previously unreleased. Available on the The Crow, The Owl And The Dove Digipak |
| The Heart Asks Pleasure First (Instrumental version) | Previously unreleased. Available on the The Crow, The Owl And The Dove Digipak |